Mercedes-Benz 280 SE W116 Limousine
Initial reg. 02.06.1978, 105.600 km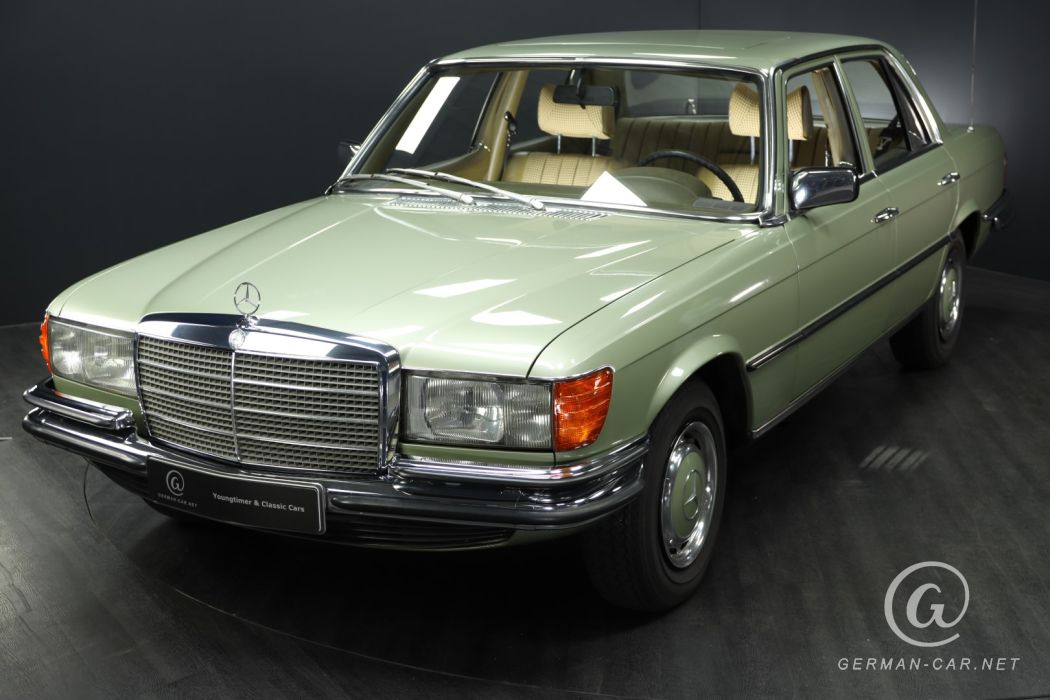 very original Mercedes W 116 limousine 280 SE automatic, for 21 years with second owner, very good history, sunroof !
DATA
| | |
| --- | --- |
| Initial reg. | 02.06.1978 |
| km | 105.600 km |
| Color | silvergreen metallic |
| Interieur | cloth pinegreen |
| Engine | gasolin |
| Capacity | 2.717 ccm |
| Performance | 136 kW |
| Transmission | automatic |
| Price | 28.500,- € |
Description
On March 6, 1978, after a long time of waiting, Mr. Werner K. from Bochum received the good news: In April 1978, the Mercedes-Benz 280 SE he had ordered would finally be delivered!
The car itself cost DM 29,090 at the time.
the special paint silver-green metallic 861 DM 975,-
the upholstery fabric moss 006 DM 380,-
the electric sliding roof DM 960,-
the automatic transmission (in the middle) DM 1,600.00
the automatic belts in the rear DM 135,-
interference suppression (for the radio) DM 85,-
the mechanical antenna DM 70,-
the reinforced battery DM 40,-
the fire extinguisher DM 48,-
the rear speakers for stereo DM 230,-
the seat heating only for the driver's seat (!) DM 200,-
the vehicle title DM 6,-
All prices plus the then valid VAT of only 12%. In 1978, Mercedes Lueg did not mention the amount that had to be paid at that time. We will be happy to deliver it: DM 37,877.28 including VAT.
In addition to this announcement of imminent delivery, the vehicle file also contains the order confirmation, some brochures, a price list and various invoices along with other documents. It's a whole folder full to the brim!
The work carried out on behalf of the long-standing second owner was all carried out by very good addresses in Hamburg.
In January 2002, our customer, on whose behalf we are now offering this very beautiful 116, took over the car and it is still in second hand to this day!
We are very happy to be able to once again offer a really beautiful, always maintained Mercedes W116 without a repair backlog, which also shines with a wonderful history!
For further questions or information about this or any of our other classic vehicle offers please just call us or write an email:
phone +49 (0)46 24 - 80 31 933
email
Board folder
The following entries can be found in the checkbook:
55,000km
64,242 km
73,786 km
77,699 km
79,698 km
86,814 km
91,658 km
97,339 km
104,358 km
We also have various receipts on which the following mileages are noted:
63,617 km
64,242 km
64,487 km
69,500 km
69,501 km
72,757 km
73,786 km
77,353 km
77,469 km
77,699 km
79,706 km
80,090km
81,506 km
83,083 km
84,789 km
85,559 km
86,814 km
88,842 km
88,846 km
91,568 km
91,571 km
91,574 km
92,190 km
94,194 km
94,200 km
97,334 km
101,260 km
104,358 km
104,362 km
104,696 km
104,827 km
Equipment/Codes
Automatic
Metallic
Special material
Electric sunroof
Seat belts
Decluttering
antenna
Fire extinguisher
Rear speakers
Heated driver's seat
right outside mirror
catalyst
get more Information
tell a friend
print